---
OCTOBER & NOVEMBER 1ST HOURS
Monday - Saturday: 9:00 am - 5:00 pm
Sunday: 10:00 am - 4:00 pm
November Hours
Only Open from Noon - 5:00 pm on the following dates:
Tue: 11/03 | Thu: 11/05 | Fri: 11/06
Reopening Black Friday!
(details to follow)
Please read the message below:
Just a friendly reminder...
that we require you to wear a face mask or face covering when you're on our property.
Also, If you don't see something you're looking for, please ask.
Thank you for supporting our small business!
---
We'd like to give a HUGE shout out to those individuals that donated items for us to sell at our Breast Cancer Awareness Bake Sale, and those who stopped in this past weekend and purchased these items (along with our "pink" flowers and pumpkins)! We were able to collect $431.00 just in those 2 days! And because it's Breast Cancer Awareness Month, The Breast Cancer Research Foundation is offering:
"2X Match
Double your impact today for the research that's saving lives. In honor of Breast Cancer Awareness Month, your gift gets matched 2X, up to $100,000!"
"Together, we can be the end of breast cancer"
---
20% OFF ALL Halloween, and Select Fall & Seasonal Food Items!
---
Our Garden Center offers a variety of annuals, perennials, hanging baskets, shrubs, veggie plants, bagged mulch, and more!
SALE ON ALL PUMPKINS & MUMS!
Only 2 colors listed above are available in 9" pots.
Other colors are still available in our 4" pots.
Painted Pumpkins
There are still some pre-painted pumpkins available for purchase.
---
Our Gift Area features garden decor, decorative wreaths, home decor, candles, jewelry, scarves, greeting cards, food items, and more!
Select Chocolate Pizza Co.'s Items Now On Sale!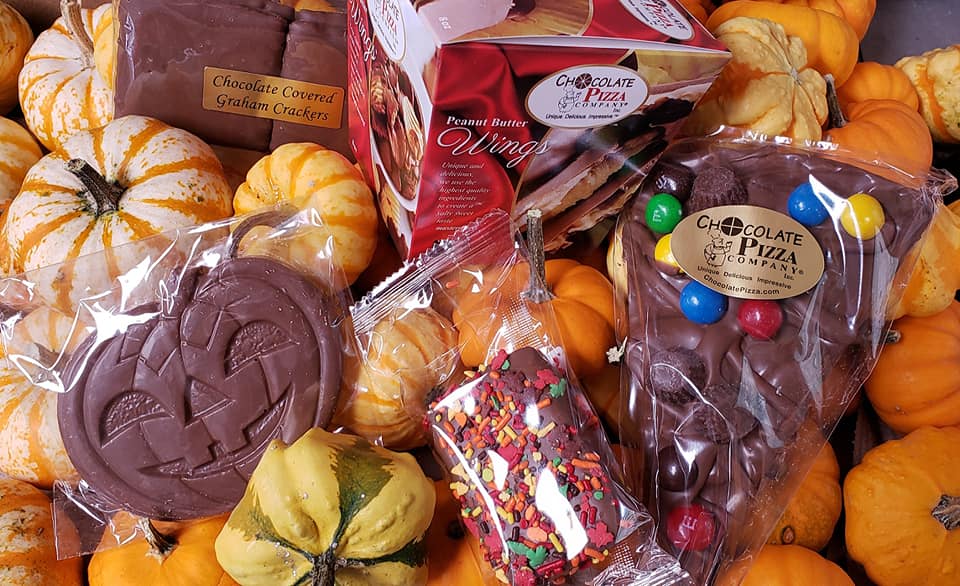 ALL Cider 20% OFF
Last Chance to snag a bag of Pumpkin Pie and/or Apple Pie Kettle Corn!

Ma & Pa's Kettle Corn & Popcorn Factory
_____________________________________________________________________________________________________
FRESH CUT FRUIT
We are now taking Orders for fresh cut fruit.

All fruit comes in 5 lb. containers that are all fruit no syrup or water.

Watermelon $17
Cantaloupe $17
Honeydew $17
Pineapple $18
Fruit Medley $17 = (Grapes, Cantaloupe, Pineapple, Honeydew)
Cash Only
Pick up will be at our Produce building with the plastic flaps over the garage door...there's a picnic table (810 E. Genesee St. Chittenango, NY)
As of this week (10/10), we are taking a short break from creating the fruit & veggie grab-n-go boxes. We will start back up mid-November, right before Thanksgiving.
Our produce business will still be available for cash & carry (curb side pick up due to Covid), so please don't hesitate contacting us if you'd like to purchase any produce, fruit, spices, and/or fresh cut fruit containers.
We'd like to thank all of you for your outstanding support during the stay-at home order. We were blown away by the number of people supporting our small business during a time in need, and we greatly appreciate you.
We look forwarding to see you all in the near future.
~ The Sorbello Families & Team
Sorbello's Produce & Disposables, our wholesale business, is geared towards the needs of restaurants, schools and institutions in Syracuse and surrounding areas. It features fresh fruit, vegetables and herbs from all over the country. We also offer a full line of disposable products.
Fruits and vegetables can be purchased on a cash & carry basis to the public.
Located at the back-right of our property (garage door with plastic flaps).